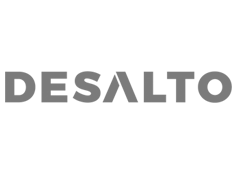 For nearly 30 years, Desalto has spread worldwide an idea of an aesthetically sophisticated product based on constant technical and technological research focused on greater functionality.
www.desalto.it
Product group : Chairs, Tables, Storage / Shelving, Home Office Desks, Garden Seating & Tables, Complementary Furniture.
DES-ALTO stands for high design. Modifying traditional technically elaborate production steps to industrially usable production cycles. The production area, which covers 10,000 square metres, ensures the processing of the raw material all the way up to its finish. In this way, each production step can be controlled at any time, thus ensuring the optimum quality for which Desalto-objects are internationally renowned.
Designers :
Marco Acerbis Archirivolto Shin Azumi Donato Bonanom iClaudio Caramel Flavio Caronni Caronni/Bonanomi Piergiorgio Cazzaniga PierluigiCerri Decoma Design Bruno Fattorini Fattorini+ Rizzini+ Partners Gordon Guillaumier Gianluigi Landoni Arik Levy Piero Lissoni Nendo Jacob Pringiers Robin Rizzini Denis Santachiara Stefan Schoning SiglaStudio Ausenda Greco Anreas Weber Hannes Wettstein Tokujin Yoshioka