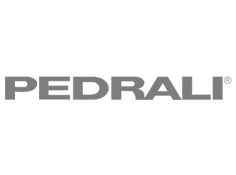 Contemporary furniture like chairs, tables and lights for home and projects. Made in Italy. Since 1963.
www.pedrali.it/en/
The Italian furniture company Pedrali Spa produces chairs and tables made of wood, plastic, metal, stainless steel, coated in leather, rawhide. Besides that, they also produce for large scale projects such as hotels, flats and restaurants, making stainless steel, cast iron and aluminum under frames for bars. Design adaptable for both home and projects.
Italian contemporary furniture company Pedrali designs chairs, tables and lamps for contract and commercial furnishings. 100% Made In Italy.
Designers :
ArchirivoltoAlberto Basaglia Alessandro BusanaManuela Busetti Michele Cazzaniga Claudio Dondoli Odoardo Fioravanti Andrea Garuti Cristian Gori Patrick Jouin Daniele Lo Scalzo Mascheri Simone Mandelli Maurizio Manzoni Antonio Pagliarulo Jorge Pensi Marco Pocci, Matteo Redaelli Natalia Rota Nodari Marc SadlerRoberto Semprini Roberto Tapinassi Pio& Tito Toso.