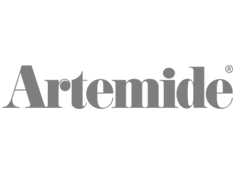 The Human LightMade in Italy. Since 1960.
www.artemide.com/en/home
Artemide has contributed to the history of the international design with products like Eclisse (1967, from Vico Magistretti), Tolomeo (1989, from Michele De Lucchi and Giancarlo Fassina), Pipe (2004, from Herzog & De Meuron) and the IN-EI Collection (2014, Issey Miyake)?all showcased at the Compasso Doro Awards. In 1994, Artemide received the Compasso Doro Career Award and the European Design Prize in 1997, as well as the Leonardo Italian Quality Prize in 2012.
Known for its "The Human Light" philosophy, Artemide boasts high skills in light design and innovation, with products originating from research and high-quality manufacturing. The company filed numerous patents on inventions (10 patents filed in 2016 alone) in time for the development of innovative technological, mechanical, and opto-electrical solutions.
Designers :
MAD ArchitectsGae AulentiBIG-Barke Ingles GroupMario BottaSantiago CalatravaLivio CastiglioniDavid ChipperfieldCarlo Colombo Paola di Arianello Elemental Giancarlo Fassina Naoto Fukasawa Adrien Gardere Groppo Architetti Urbanisti Citta Nuova Marti Guixe Herzog & De Meuron Foster + Partners Industrial Design James Irvine Mikko Laakkonen Arik Levy Enzo Mari Giancarlo Mattioli Sergio Mazza Alessandro Mendini Issey Miyake Bruno Munari Neri&Hu Patrick Norguet Jean Nouvel Mimmo Paladino Ludovica + Roberto Palomba Karim Rashid Gerhard Reichert Aldo Rossi Giuseppe Maurizio Scutella Quaglio Simonelli Ettore Sottsass Matteo Thun Pio & Tito Toso Luciano Vistosi Wilmotte & Vistosi Scott Wilson