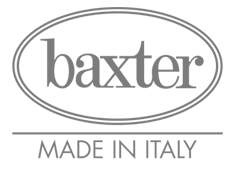 Handcrafted Bull Leather Upholstery. Made in Italy. Since 1989.
www.baxter.it
Started with traditional British style. Evolved to fashionable eclectic design with a modern twist. Examples are using vintage Italian design furniture furnished with new colors, materials and prints. Over the course of its history, Baxter has succeeded in developing a hallmark style concept based on the finest leather and the excellent workmanship of its products. It is therefore considered a unique brand devoted to a sophisticated clientele which appreciates contemporary luxury and moods that are consistently new and amazing.
With its peerless expertise in luxury leather upholstery, the subtle sophistication whose hallmark luxurious and eclectic style is appreciated best by the most discerning clientele.
Designers :
Paola Navone Dredge and Aurel Matteo Thun Antonio Rodriguez Cristophe Delcourt Giuseppe Manzoni Marco Milisich Piero Lissoni Massimiliano Doriana Fuksas Roberto Lazzeroni Vincenzo De Cotiis Baxter P.